Jennifer Branch creates light-filled watercolor landscape paintings from her studio in Northwest Georgia. A modern impressionist, her paintings explore the full possibilities of transparent watercolor, a medium bringing color and light to life.
Coming from a strong family tradition of artists, Jennifer Branch began her painting career at an early age and has painted continuously ever since.
Beginning by selling her pen and ink sketches before she could drive, Jennifer Branch's only profession has been that of artist. After exploring all mediums, the limitless possibilities of watercolor captured her. Primarily self taught, her watercolor style is uniquely vivid in color and concept.
Jennifer Branch's workshops draw artists from around the world to learn from her unique painting style. Her companion painting workshop videos inspire many artists. An article demonstrating her painting techniques was featured in Watercolor Magazine, Summer 2004,
Paradise Found, The Florida Everglades
.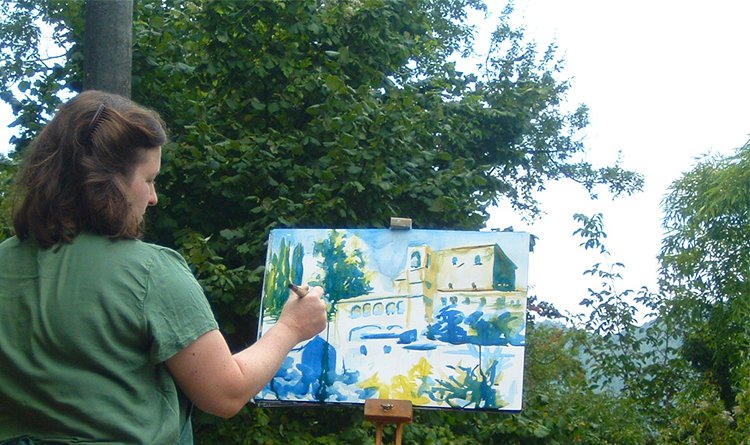 Balancing atmosphere and technique, Jennifer Branch alternates her frequent and varied inspirational travels with periods of intense studio work. She might be found painting or sketching anywhere from a remote mountain stream to the city wilds. Her swirling images of sea turtles swimming, dramatic night city scenes, moody oceans and exquisite watercolor portraits grace many collectors' walls internationally.


Jennifer Branch paints small jewels of paintings evoking memories of a place or time and huge color bursts of paintings filling a room with joy. Her sensuous use of color and form brings vitality to many private and corporate collections in the United States and abroad.


Jennifer Branch is a modern impressionist bringing her subjects to vibrant life on paper.