5 Places to Show Your Art
2015-06-05
To start selling your artwork, first you need to show it to people. After all, art is meant to be experienced by the viewer. Art is not a static medium, but very much tied up with the viewer's experience. Art needs to be seen to be complete.
Actual physical locations are the best place to start.
Hooray! You've made the decision to start showing people your art! You want everyone to see the wonderful art you've been creating! You wouldn't mind getting some money back from all those art supplies you've been buying either. At some point, art should pay for itself, if not turn a profit.
Selling your art is a terrific decision I am wholeheartedly behind. The more artists there are; the more art appreciators there are. Less of the "I found this stick and hung it on the wall" and more meaningful pieces of art out there. (Not that sticks can't be very interesting but there needs to be a balance.)
So where are the best places to initially show your work?
I'm a huge fan of online selling, as you know. I was one of the first artists to start showing my work online, before prices or actual sales were possible. Wow, times have changed. I was also one of the first artists to actually sell work online and that's where almost all my sales are made now. I absolutely think you should have a web site and participate online.
Starting out showing your work online only has drawbacks though. You don't get much feedback online compared to real physical settings. (That's the main drawback to selling all my work online.) When you see people looking at your work you know more about what they like. It's not about a simple thumbs up like. It's about a person standing and staring at your work for a few minutes, then wandering back for one more look before leaving the area. You can tell by their faces what they think of your art.
Someone intensely experiencing your art doesn't mean they'll buy it. People don't buy art for all sorts of reasons. Maybe they can't afford it. Or it won't fit in the space they have. Or their wife hates watercolors. You never know why someone doesn't buy a piece. Maybe it doesn't match their sofa!
I'll talk about selling your artwork in another article. This article is about you, the artist, understanding how people experience your art and becoming part of that circle. The only way to do that is to take a deep breath and put your artwork out somewhere you can see the viewers.
Local Arts Center
Let's start with the easiest and obvious option. You've probably taken a few classes at the local art center. You're comfortable there. You've noticed the student shows and you think you fit in that mix very well. Frankly, you think you're at the top of that group. That's why your local arts center is a good place to start.
Pros
Local arts centers love artists. That's why they exist, after all. You'll get lots of encouragement. Any advice will be well meaning and nicely given. (That's not to say advice is always right, but it can be useful!)
Arts centers are a good place to build up your confidence and get used to participating in shows. Always enter shows there once you're comfortable showing your work to others, even if you don't plan on selling it. It's a place to enjoy being an artist!
Cons
Well, lots of encouragement is good, but most people are most interested in their own art since they created it. You probably won't make any sales at an arts center.
Sometimes, as with any group of people, you get a clique in charge. A clique can control what's shown pretty tightly and your work won't ever get in. If this happens, just knock on another door and don't' worry about it. This is rare, but does happen so don't ever get discouraged by not getting in a show!
Local arts centers are great places to start showing your work!
Library
My personal favorite place to start is your local library! Local libraries usually have a blank wall they like changing the artwork on. Libraries are community centers and they like reflecting the community. I have to admit, as an introvert I spend a lot of time in libraries. If your local library has a rotating gallery wall then ask your friendly librarian.
Some libraries have a place for business cards but most will give out cards behind the desk. I always created a little sign with my name and web address. After all, even if kids grabbed handfuls of your cards, a potential client can always make notes on their phone of how to get in touch with you. Most libraries don't allow price stickers, but if you have the same paintings on your website clients can see prices easily.
Universities also have libraries and gallery walls. You don't just have to consider your local library, but it's a good place to start. I used to show and sell a lot of work in libraries. My last library show was fairly recently at Georgia State University with an
All That Jazz and Atlanta theme!
Pros
Good traffic and a diverse crowd of people coming through.
Generally, if your work is good, you'll get a spot eventually.
Libraries are a great place to see how people react to your work while you're anonymous. However, you don't need to sit there the whole time (just a little creepy), just put your work up and come in for books once or twice a week!
Cons
The wait list could be long. Librarians also like to show as diverse art as possible. So if you do abstract oils, you might have to wait until a landscape and collage have shown. I think it's great they show all types of work, but it can be frustrating to have a year long waitlist!
People aren't at the library to buy stuff.
The biggest drawback is you need frames or appropriate display for all your pieces. That's usually expensive the first time, but you'll have them the next showing unless they sell.
Libraries are a terrific place to start showing your work because they are very easy and friendly.
Art Festival Entry Photo
Restaurants and Coffee Shops
Local coffee shops and art are pretty much a cliche. There's a reason for this. Restaurants get local art rotating for free. They get customers (really, you wouldn't take a friend in to see your show?) and free publicity. You get free publicity. Everyone is happy.
Pros
Your work gets seen by a lot of people!
People have their wallets with them and are spending money so you might make some sales!
Cons
The owner is going to be choosy about what he puts up in his restaurant. Completely rightly.
As a shy person, I know it's hard to ask. Stick to places you see they have rotating artwork and have something to show your work to the owner when they ask. Preferably a brochure you can leave with them.
Frankly, restaurants aren't as safe as libraries. Your work might get splattered by tomato sauce. Keep it protected.
The chances of selling are much higher at a restaurant, but it's not a gallery. The bonus is you get people who never go to galleries!
Companies
Big companies often have rotating art in their lobbies. Sometimes it's a community art show, sometimes local artist shows and sometimes employee only shows.
Pros
If you're an employee, you have a foot in the door on this one!
A lot of people pass through a lobby. Some people will dawdle or have lunch and look at the artwork. You'll probably make a few sales!
Cons
If it's your workplace, you might not be ready to show there.
You can't protect your artwork. A company big enough to have an art show is not going to be able to protect your artwork.
It's hard to find these opportunities sometimes unless it's a lobby you pass through regularly.
It's very important to have a sign with your information on this show since you can't expect information desk personnel to give out business cards.
You need very nice frames that integrate with the gallery area. This can be expensive.
Companies aren't one of my favorite art show options. However, if you pass through the lobby frequently, it's an excellent place to show your art.
Donations
Donations to local charities are terrific places to show your artwork! I pick charities I believe in so I know my work goes to a good cause.
In the United States, tax laws have changed so donating is not as good business as it was. A few years ago, you could deduct the fair market value (a similar piece you had sold or the actual charity auction amount) from your taxes. Now, you can only deduct the material cost of your work (so keep track of the paper and frame receipts!) It's a slap in the face to artists for not considering their time worth anything but so life and taxes go.
The last big piece I donated was to a great charity event called
>Chairish the Future
that donates furniture one time to people who have lost everything, such as in a fire. I had so much fun painting the chair to auction!
Pros
That wonderful feeling you get when your work makes a difference twofold! Someone who loves it buys it and the charity you think is important gets money for it. Can't beat that!
A charity auction is good publicity for the artist.
Cons
You don't get to keep the money. Boohoo. Since it goes where you want it, works for me!
My entire career until the past 3 years I've given away one large donation to a charity a year. (Small kids and too much to do recently.) I used to do a lot of smaller things in addition to the large artwork, but with the new tax laws, original painting donations have changed to limited edition prints. I look forward to donating again when I have time again. It's my form of tithing. I like that I get to choose the cause!
Sometimes the mural has to match the sofa! (See below.) This isn't actually a con, it's more just part of giving a gift. You give what the receiver wants and it's not always what you happen to want to give. I was happy with this mural and Shepard couldn't have been nicer!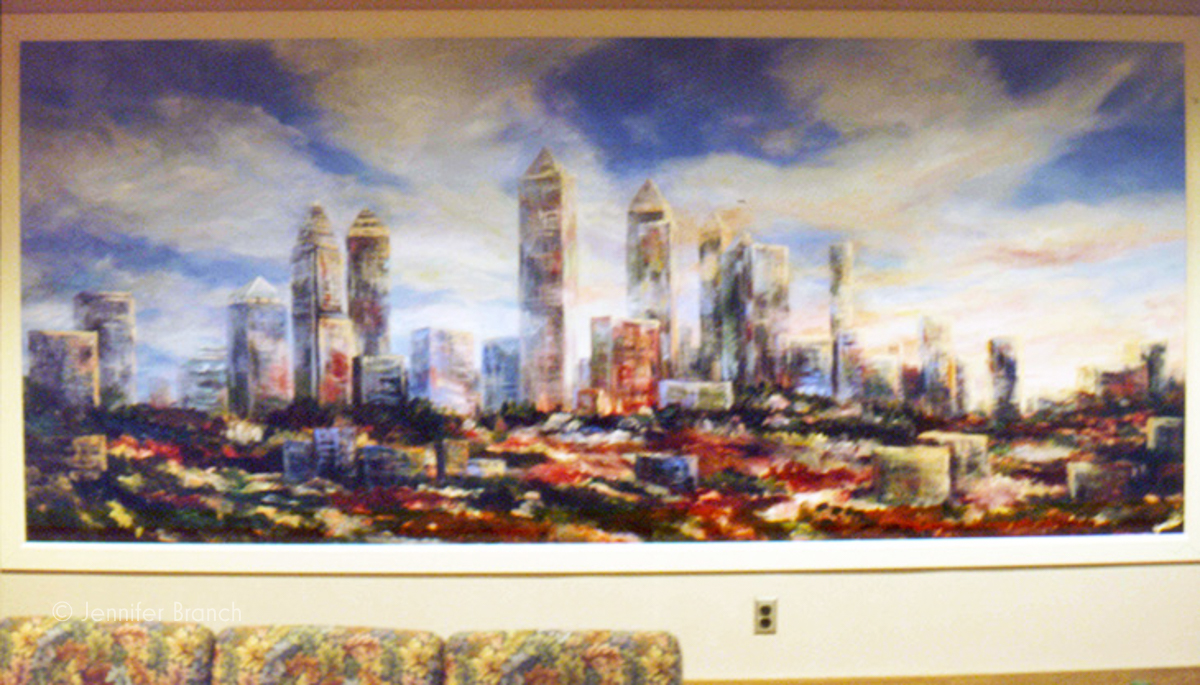 Conclusion
Opportunities to show your artwork are everywhere.
Never pay for an "opportunity" to show your work, unless it's a nonprofit art club show entry, etc. If a gallery is charging you to show your work, it's not a legitimate gallery. If a gallery charges a percentage of what artwork it sells (generally 40 - 60% depending on location and marketing) that is how the gallery keeps its doors open and part of the cost of doing business. On the other hand, an art festival will charge a fee for your place but not charge a percentage of sales. Entry fees for contests and shows should be reasonable.
Never pay to show your artwork.
There are probably 100 places I haven't mentioned, but I'd love to see in the comments.
It's difficult taking the step to show your artwork the first time. Start slow, don't spend a lot of money on display since you don't know what will work best until you've done this for a while. Have fun listening to positive comments and seeing people appreciate the art you've worked so hard on. If they are negative comments, let them wash right over you, but do use any practical advice you get too.
Remember you can't please everyone!
I hope this inspires you to take your first steps in showing your art when you're ready!
Take a chance and show your art to the world!
Good luck and happy painting!
You want people to see and appreciate your beautiful artwork! Here are 5 non-online places you can start showing your artwork and start your art career!