Sketching and Fishing
2015-09-11
I love sketching. Sketching is relaxing and a way of seeing the world new every time you bring out a pencil and paper.
Last weekend my husband and I spent an long afternoon sketching and fishing. I sketched. He fished. And our 2 boys bounced from one of us to the other, generally smudging my sketches and throwing rocks at the fish.
My husband loves to fish. He doesn't catch many fish, but we have always hiked, taken photos and sketched. Hiking with a 2 year old is nearly impossible. He weighs almost 40 pounds, so quite a load, and he trots along nicely for a mile or 2, then he's tired. Frankly, I think he's doing great for his little legs, but it does limit how far we can go. If you've ever gone out for an afternoon with kids, you know you need a lot more stuff than you ever did before.
Fishing is a perfect solution. Only about a mile in to a great fishing / picnic spot. Bring a picnic, rods and sketching stuff and we're ready to have a lovely day out!
I usually bring at least 2 and preferably 3 sketchbooks. In the summer humidity, watercolor doesn't always dry quickly. I also like painting at least 3 layers in a sketchbook so it's nice to keep them rotating. I paint fast!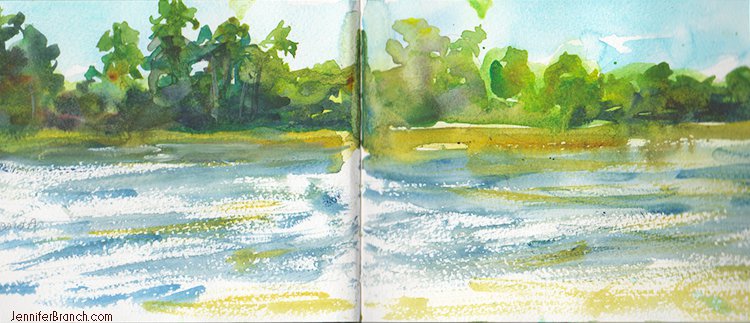 Last weekend I did 5 sketches. Most of them you'll never see because sketching is working out problems for me. The interesting tree, with its knobs and rough / smooth bark was a problem I solved then went to a cute sketch - because of course I love cute sketches of memories like everyone else!
The main problem I was working on that day was how to paint lake water on a blue sunny day. Lake Allatoona is muddy with Georgia red clay. So basically burnt sienna. However, the sky reflections and depth of water make for a chalky teal with splashes of bright white or cobalt. Possibly deep ultramarine. You try painting those colors all together and keeping it light and transparent. Painting mud without making it look yucky is hard from the start. Combining mud with water - oh, that's hard!
Anyhow, I'm thrilled I finally got muddy lake water right, but it's definitely not a cute sketch! And you're not going to ever see that, though you may see some lovely lake sketches in the future!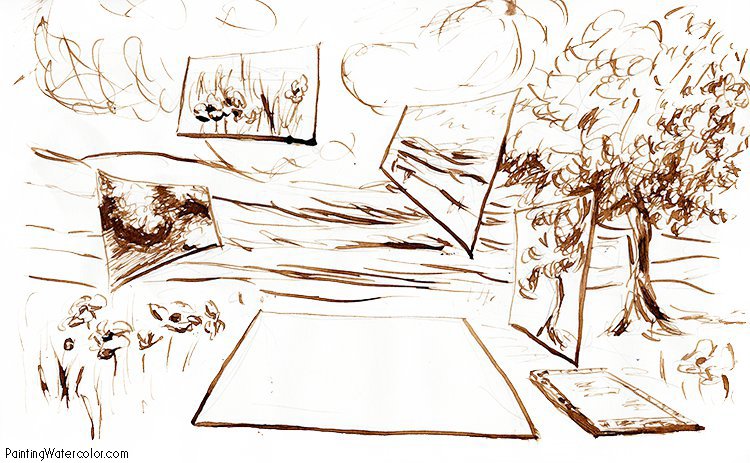 All sketches should not perfect.
Whether you share them or not is up to you - I generally only share things I think you can learn from along with me or the good stuff I'm proud of!
Sketches don't have to be perfect. Every time you paint on location (or en plein air) if we're fancy, you should not end up with a finished painting. You can prefer doing finished paintings in the studio or on location. I'm mixed on that. I think it's more comfortable and I can do more layers in the studio. Also, I like doing several paintings before I have a finished one. Especially since kids, I just don't have time to do that on location, unless I'm painting my backyard.
Sketching on location is an opportunity to learn about painting and the world around us.
Have fun sketching this weekend!