There's something inspiring about a lighthouse. They stand proudly on the highest point around and shine a single beacon of light into the dark. They are usually beautiful, just because of what they stand for, safety and hope in the darkest night.
Bass Harbor Lighthouse is a particularly beautiful lighthouse. It stands on a rocky cliff overlooking the mouth of Bass Harbor. It's part of Acadia National Park and I've painted the actual lighthouse several times. I'm sure I will paint it again, since it is so beautiful.
But on this trip to show my boys the lighthouse it was the path to the lighthouse that inspired me. It's a very short hike, but not the easiest. The steep path is carved into the cliff with steps interspersed until it ends abruptly on the rocks with a gorgeous view of the lighthouse.
Before the end, the afternoon light was slanting through the trees and turning everything to a beautiful sunlit haze. The trees weren't quite in focus, but blurring into the sun.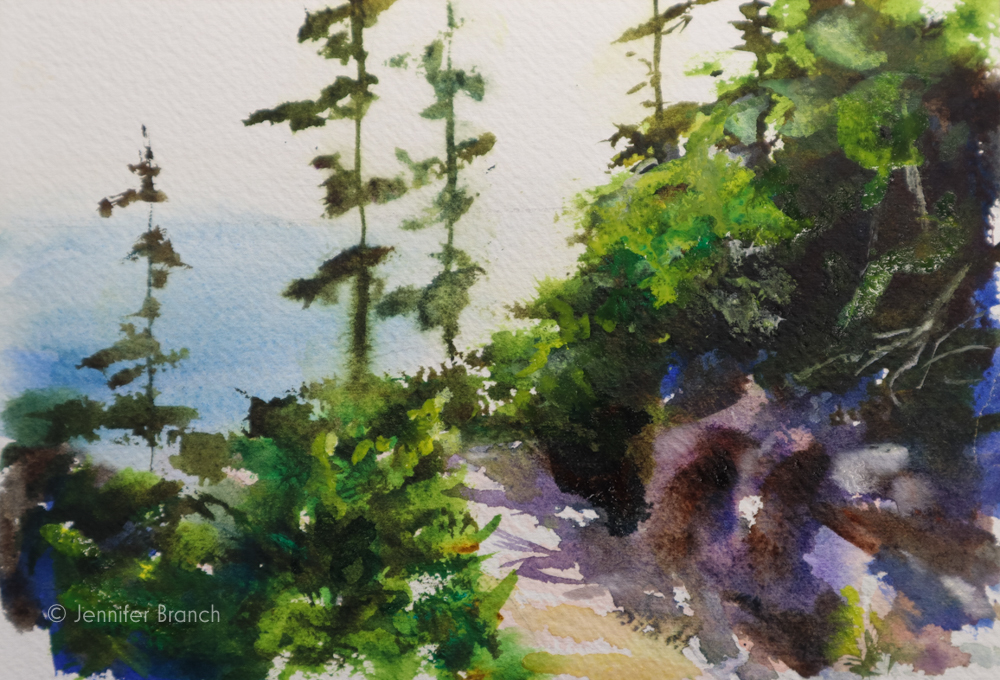 Naturally, I had to sketch it!
The painting took a bit longer to create than the sketch, but the feeling of shimmering light on the sea and trees is there. If you want to see the process, I have a painting tutorial on it.
I think everyone has that feeling of walking into the light sometimes. You know the view will be beautiful, but it's hard to see the detail of each step along your path.
This painting is a reminder to enjoy your journey. Those shimmering steps along the way are beautiful too.