I think that artists thinking mixing green is difficult is a holdover from when green was an unlucky color because it would attract fairies. (Not the nice Disney ones.)
More seriously, many artists and galleries believe paintings with lots of green won't sell. As a professional artist for over 20 years, I can tell you categorically that's not true. Some of my best selling prints were mostly green, so that means they didn't appeal to just one person, but many.
In painting sales, green and blue do vary, since color choices in home decor are dictated by carpet manufacturers and Pantone. If you're using a blue palette, an interior designer wouldn't choose green, and vice versa. However, all sorts of elements vary that. One year city scenes will be in style. A few years later everyone wants barn scenes. The art market varies according to a lot of factors.
Mixing with Single Pigment Greens
The simplest way to paint greens is to use a single pigment color, then vary it with additional colors.
The key here is a SINGLE PIGMENT paint, NOT a premixed combination of pigments, like Sap Green or Hooker's Green.
Sap Green or Hooker's Green look lovely when you first paint them, but you're already starting with 3 different pigments in each tube. Three pigments is the maximum amount of pigments a beginning artist should use in one wash before it turns to mud. So you're limiting your paint mixing to ZERO more pigments before your painting is muddy. Talk about limiting your painting potential!
A very advanced artist can mix more than 3 pigments at once and get beautiful colors. But it's much harder to do than simply limiting your palette to single pigment colors. Why start by crippling yourself?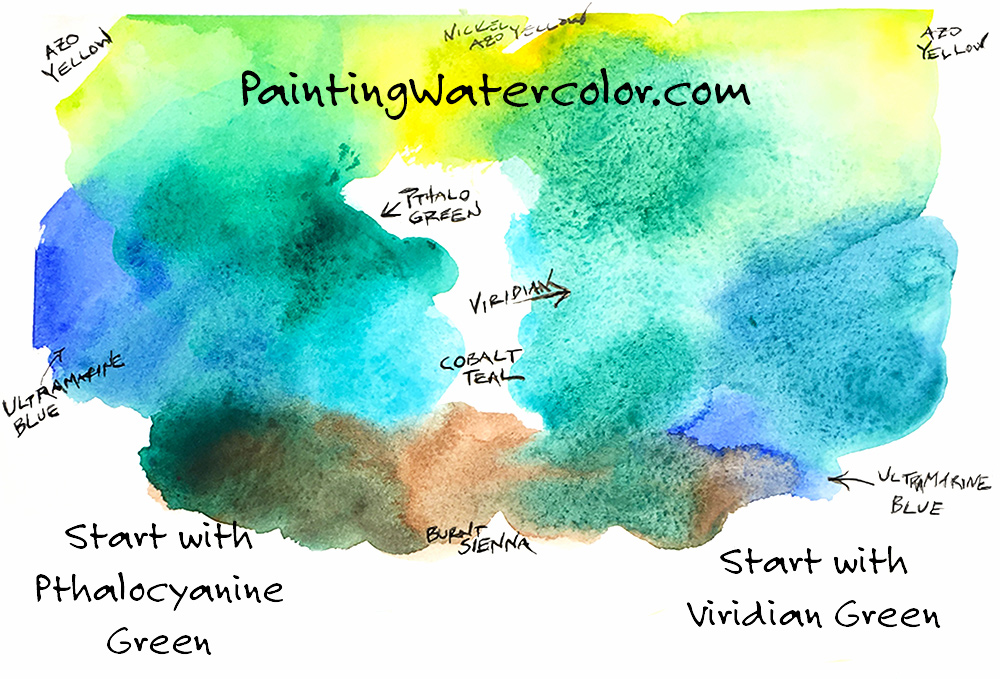 I use either Pthalocyanine Green or Viridian Green when I want a quick green. I'll only use one of them, so I keep them in the same well on my palette. (I paint almost every day.) They're both a little bright to use without mixing them. Green is the only color I mix on my palette, so sometimes that's where I start mixing. I usually finish mixing on the paper either way.
Pthalocyanine Green
Pthalo Green is very staining, very transparent and very bright. There are no half measures with any of the Pthalocyanines! If you want bright summer greens, Pthalo Green is your best choice!
Viridian Green
Viridian Green is not as staining, slightly grainy and a little duller than Pthalo Green. If you want granulation, Viridian Green is your best choice.
Artist's Tips
Try not to use more than 3 colors at once. (I know I am here, but that's for the demo!)