Yesterday was a nice fall day. The light was almost flat (horrible for painting and photos). but it's turning cold and nasty for the next few days. So Edwin and I took advantage of the warm weather and went to Etowah Indian Mounds, outside Cartersville, GA.
It's a 54 acre site with 3 dramatic pyramids built during the Mississippian Period around 900 - 1500 AD. They lived and worked around this area, really the equivalent of a city. Plan on walking up the steps of the biggest mound (about 63 ft tall). Gorgeous view! It really is amazing that they did all this without modern machinery - and that so much of it has survived! Imagine carrying all that dirt in baskets...
Here's the
official site.
Do check it before visiting. Budget cuts have cut down on the hours dramatically. We were lucky enough to happen in when a school group was visiting. The ranger gave a wonderful lecture on ancient weapons and tools. The most dramatic part was the throwing distance between a regular spear and one thrown using an atlatl. I had read about the difference but - I guess you can move the earth using a lever!
A clay and wattle house to show how the people once lived here. A highlight for a 3 year old! I wish they'd included the smoked fish (models) in the roof. I've always liked the larder in the ceiling![/caption]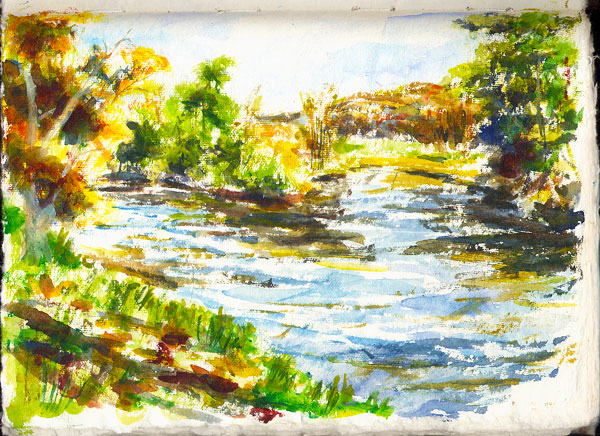 There's a gorgeous place to walk next to the Etowah River, so we had our picnic there. There are either the remains or a recreation of an ancient fish trap in the river, a simple stone V with a basket at the point to catch fish. You can only see the stones when the hydroelectric dam hasn't released water. There was a lot for Edwin to play with there, so I painted the autumn river instead of the mounds.
It's a really nice day out if you live in the Southeast. Pretty awe inspiring! The Moundbuilders had an vibrantly active culture! Everything from art to advanced farming was at a pinnacle here.
There's another site a bit downstream archeologists are currently excavating. I wonder what they'll find?