If you're painting your very best and taking chances to make your paintings better, you're going to end up with some "ruined" paintings. Some of the paintings will be tossed on the scrap heap of learning experience, but before you do anything drastic, try some of these watercolor painting fixes.
Some of my very best paintings are ones I threw up my hands and decided I'd put a bold wash on it to see what would improve it next try. When you realize you can take chances with your work , you paint your best.
It's only paper and paint. Time painting is never wasted!
Here are 5 different fixes that can transform "ruined" paintings into your masterpieces!
1. White gouache is your friend.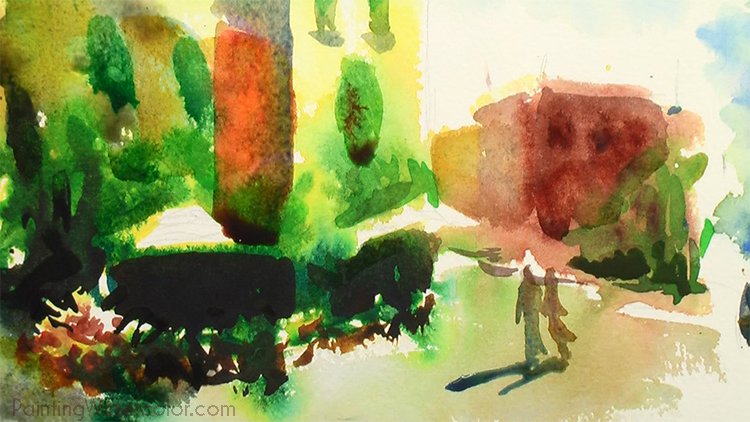 So many watercolor artists are afraid to use white gouache. There are even entire watercolor societies dedicated to, basically, not using white gouache.
And I agree, nothing can mute a painting quicker than too much gouache in transparent watercolor. But if you stick to using it only when it's needed versus using it for all your whites, white gouache can improve a painting dramatically.
It's so easy to paint over an umbrella edge or a mast in the sky by accident. Most of the time, painting over a small object is the better decision. It makes for a lovely coherent wash and you can always go back in with a touch of gouache. (Or pull the paint out, add a new line or paint another wash around the object. )
Too careful negative painting can make a painting fussy.
3 Rules for Using Gouache:
1. Keep gouache off your palette!



Gouache is opaque. You don't want it mixing with your lovely transparent watercolors. I generally use it in the tube, since I use so little of it. If I need to mix it, I'll mix it on my table or as separately in my palette as I can, then clean it up immediately.

2. Save it to the end.



Like I said, you don't want gouache mixing where you don't want it to. Any wash you paint on top of gouache will turn opaque. This can be a good thing - as long as you're planning for it!

3. Use it sparingly.



A little gouache goes a long way. If you use it all over a painting in gobs, it becomes gimmicky.
Artist's Tips
Use white gouache directly from the tube.
Dont forget you can mix white gouache with a little pigment to get a pastel opaque version of that color. I used that to get a few pink flowers blooming in the example above. I usually mix to the side of my palette. This can be very helpful for painting on location.
So have fun with your washes! If they go over the edges, either let them be, pull a little paint out or use gouache!