Painting reflections in watercolor is easy with a few simple rules. I can't tell you how many students I've had who have confused reflection and shadow behavior, ruining their paintings, when just understanding a little bit more about reflections would have resulted in their masterpieces.
This 4 part reflections series guides you through the basics in this lesson, then progressively step up the reflection and the painting complication. We'll start with almost mirrored dinghies, move to a few ripples, then on to one of my most complicated painting tutorials yet with reflections on translucent water.
Your water paintings will be amazing at the end of this series!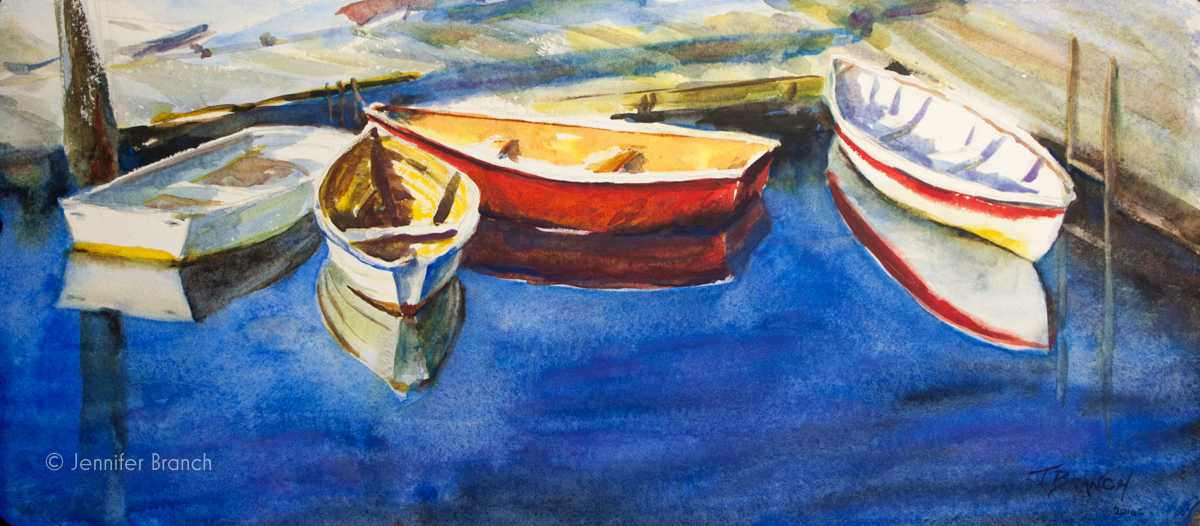 Painting reflections well is the quickest way to improve your water paintings. This is going to be fun!
When I look at a gorgeous lake scene, I don't think about Physics 101, but all the rules of painting reflections are basic physics. Think of the lake as a mirror. That's all it is before we start adding ripples. A dull, imperfect mirror, but still a simple mirror.
1. Reflections come directly toward the viewer.
Reflections don't skew with the sun like shadows. They always come directly towards you, the artist painting those reflections and the viewer looking at your paintings.
If it helps, use a ruler to draw a 90 degree line from the bottom edge of the paper. That's really all you need to do.
On really large paintings, such as murals, this gets complicated since you have to plan for where the viewer (or the most viewers) are going to be standing. But as long as you stay under 12 feet wide, you're pretty safe just making all the reflections come towards you at the center of the painting.