The First Rule of Masking
Let It Dry!
Always, always, always let the masking dry completely before you touch your brush to it. It WILL ruin your beautiful paintbrush if you don't let it dry completely.
Let the paint dry before you remove or add more masking. If you don't, it will ruin your paper - and your painting.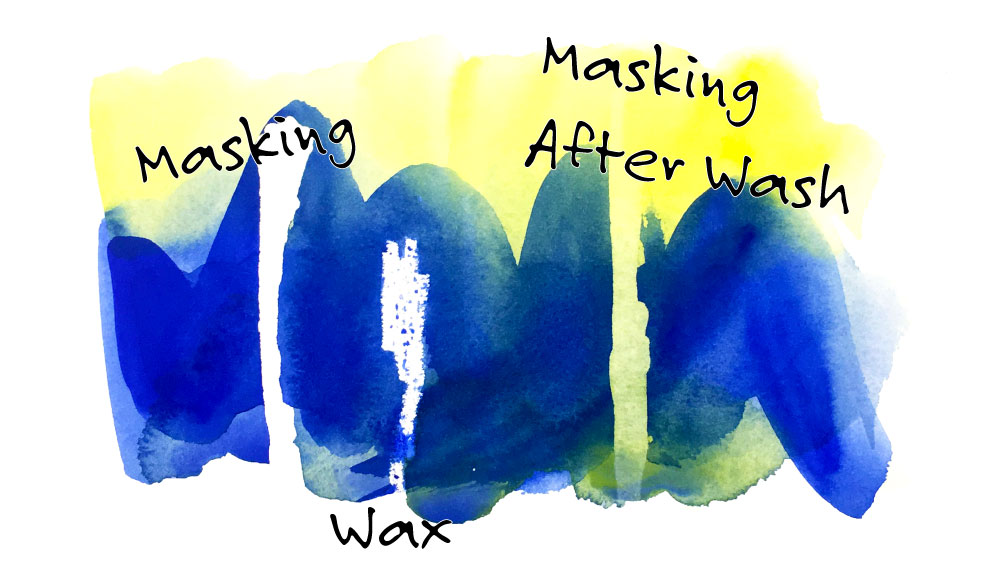 The Second Rule of Masking
Don't let your brush touch it!
It WILL ruin your beautiful brush. Do not ever use a brush to apply masking.
Don't bother to buy cheap brushes to apply masking. They will barely make it through one use.
The silcon applicators are nice, but I love using the eraser on a #2 pencil. The eraser should never be let near your paper for erasing since it scratches the paper and leaves marks (always use a white artist's eraser). But as a masking applicator, it can't be beat!
To remove the masking from the eraser, just let it dry and pull it off. That simple!
The Third Rule of Masking
Don't leave masking on your paper too long.
Masking is meant to be used for a week or so at the maximum. If you use it longer than that, you're exposing the paper to temperature and humidity changes. These will cause the masking to dye the paper (lovely yellow or bright pink, whatever the color of the masking you chose) or to bond with the paper, making it impossible to remove without damaging the paper.
I am not saying that leaving masking on your paper will definitely ruin it. Just that I've had it happen more than once, so please don't take the chance with your lovely paintings.
So use masking as an excuse to paint fast!
I use Grafix 4-1/2-Ounce Incredible White Mask Liquid Frisket
I've tried a lot of brands of masking and it removes the easiest with the least damage to paper. I've never had a problem using Incredible White Mask on Arches paper. I also like the off white color vs pink. It doesn't stain the paper and is closer to the true white you're looking for.