This YouTube watercolor painting video shows everything you need to know to paint the 3 watercolor washes!
A watercolor wash is simply how you get the paint on the paper. That's all. Nothing complicated.
There are many fancy techniques, but they're usually ways of getting around the 3 basic washes. Learn to paint these well and watercolor becomes much easier.
It's just playing with paint, after all!
Wet into Wet Wash
Wet your paper, then lightly touch wet paint onto the wet paper. Completely saturate the paper with clean water then gently drop wet paint into it. Don't overwork it!
A wet on wet watercolor wash blurs and flows all over the wet area. Wet / wet washes create interesting backwash effects if the paint or water is uneven. This can be great texture!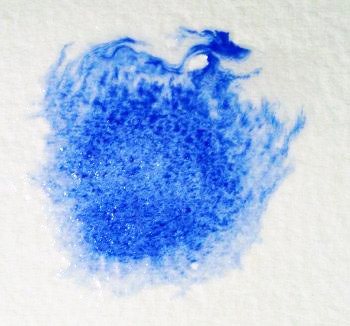 Examples on Arches 140# Rough Paper
Wet on wet wash is usually used as an initial wash over the entire painting or as a wash in a discrete area of the painting. It's difficult to control but has lovely affects of flowing color. I highly recommend using a maximum of 3 pigments (not paint colors, but pigments) in a wet wash. More than 3 pigments can get very muddy quickly!
If you run into trouble and it starts looking muddy, step away and let it dry completely. Sometimes it dries better than it looks wet! If it doesn't recover, try a pale smooth wash over the entire wash area. Think a translucent color like quinacridone gold if you're painting a warm wash or very thin ultramarine blue if it's a cool area.
Wet on wet washes can be painted well on any type of paper, from smooth bristol board to rough press paper. However, they will look very different on different textures of paper. Very inexpensive, poorly sized paper will sometimes look blotchy. Clay coated paper, such as Moleskine's Watercolour Journal, will show each stroke clearly. Neither of these are impossible to deal with, but practice on a scrap of paper before you start your masterpiece!
Some examples of good times to use a wet into wet watercolor wash are smoothly graduated skies or water. Or if you're painting a foggy day with very gray light, an overall smooth wash will set the mood.
Artist's Tips
Not using enough pigment and using too much water on the paper.