Painting Demonstration 1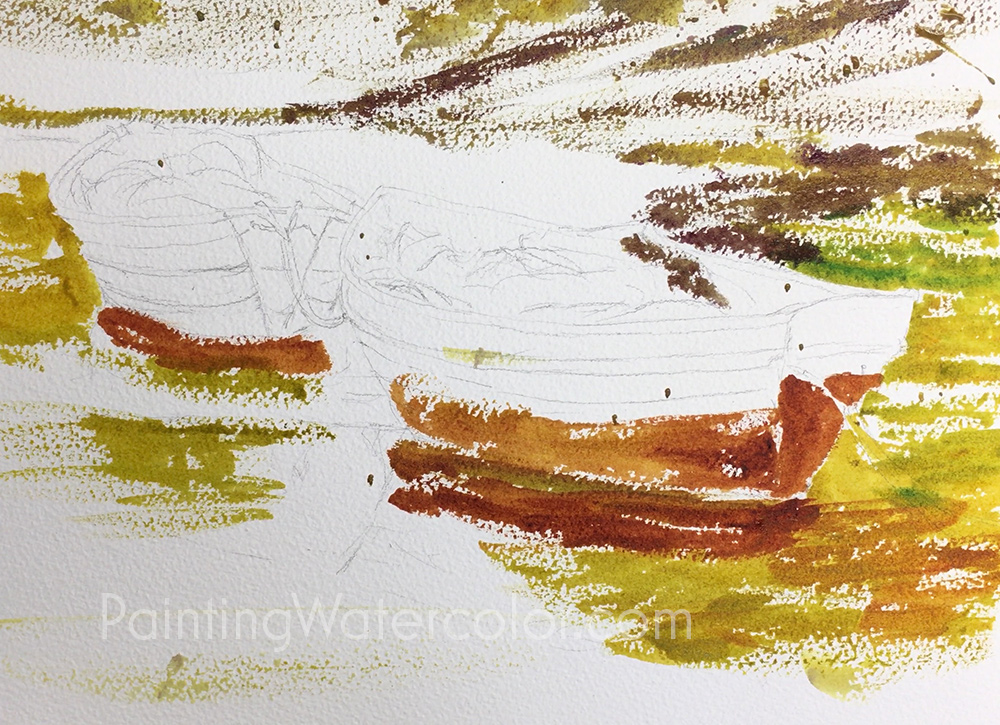 I begin with a very loose dry brush stroke. This is a painting where it's better to be a little cautious and build up in layers. You need a lot of white paper for that beautiful shimmer.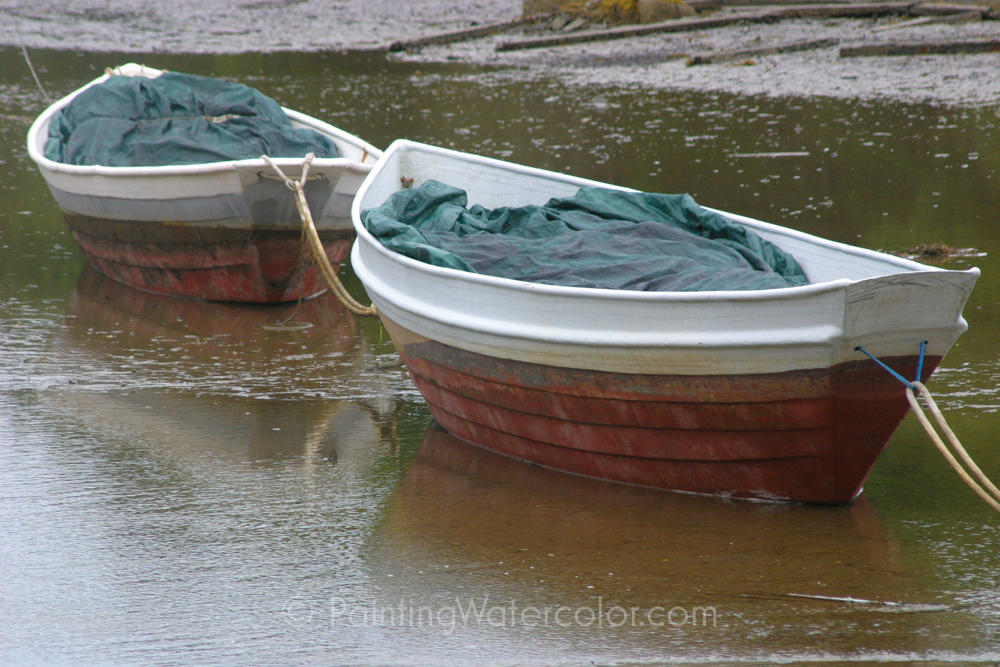 Painting Demonstration 2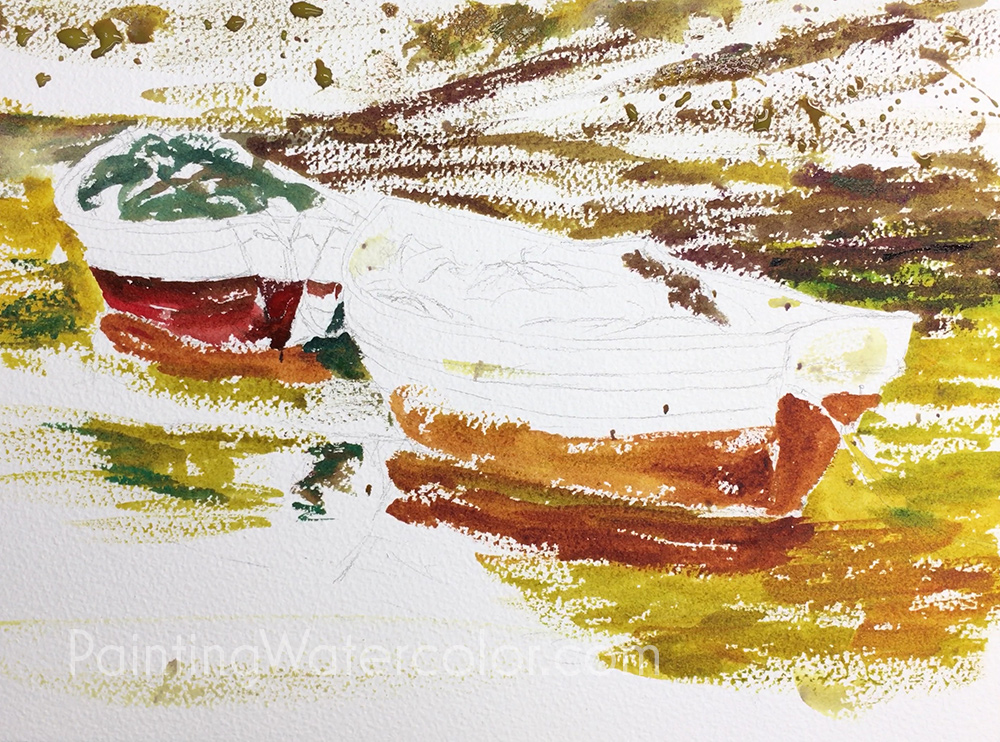 I paint the tarp covering the nets in a very rough stroke, just hitting the shadow areas. I'm using cobalt teal and cobalt violet.
Painting Demonstration 3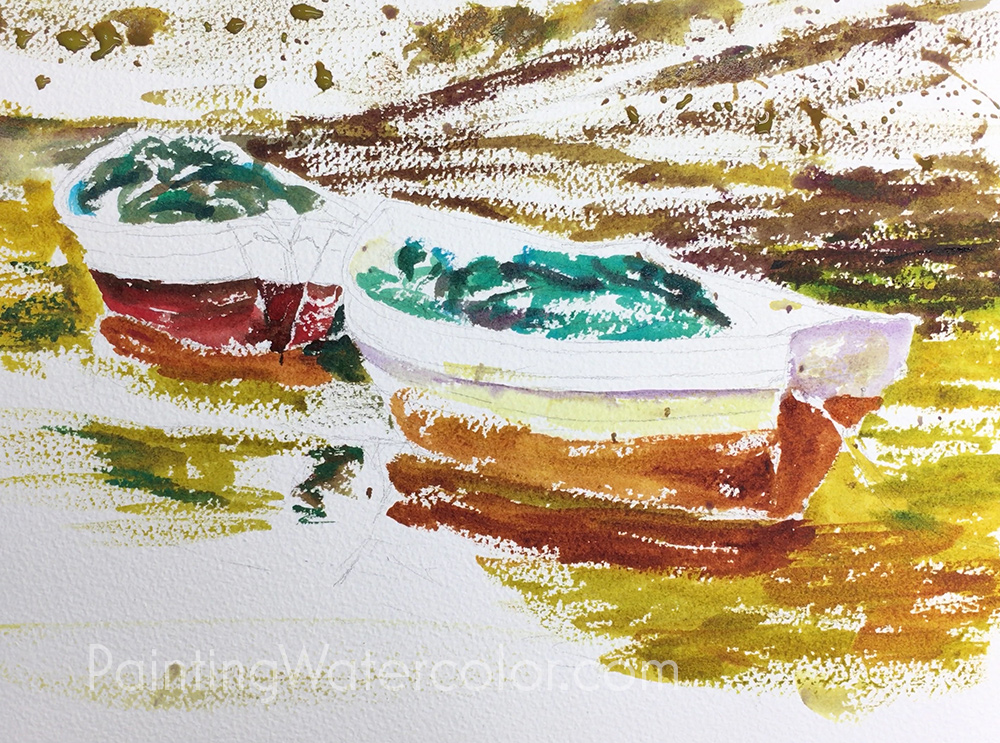 Cobalt violet and nickel azo yellow give a lovely glow to the stern of the boat. I want the luminous glow under all the shadow areas.
Artist's Tips
Take your time and build up in layers of dry brush. It's easy to paint over whites, but impossible to get the white paper back.
Painting Demonstration 4
A little bit more detail on the boats. I'm still painting very slowly for me to reserve whites where I might need them.
The entire painting took about 2 hours to paint. I have to admit that was over several days since during the holidays I grab 15 minutes when I can steal it!
As I paint the hull's boards, I keep in mind the shape of the hull. I want the boards to curve with the boat's curves like they are built to curve.
Painting Demonstration 5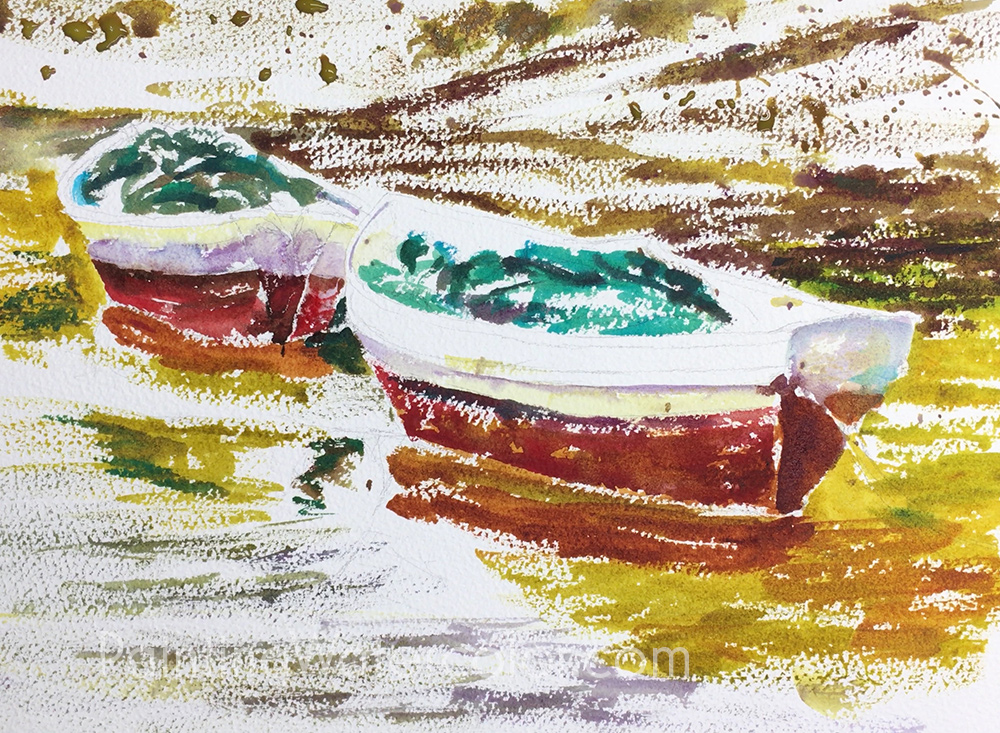 That shimmering water is barely there in the background and foreground. Just little hints of tidal cove ripples with sparkling light.
You really need squirrel hair to just graze the paper for the water. Then attack it with splatters - you don't want to get too fussy!
Painting Demonstration 6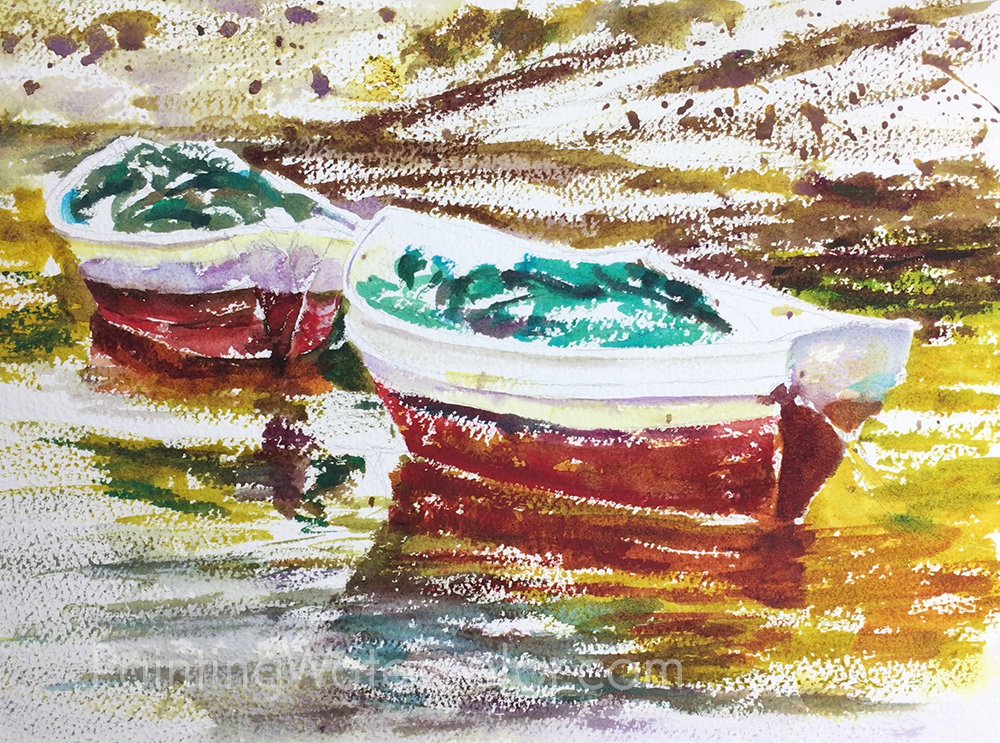 A few barely there cobalt blue and teal strokes tie the ripples together. I'm still leaving a lot of white paper and gaps in my strokes.
Painting Demonstration 7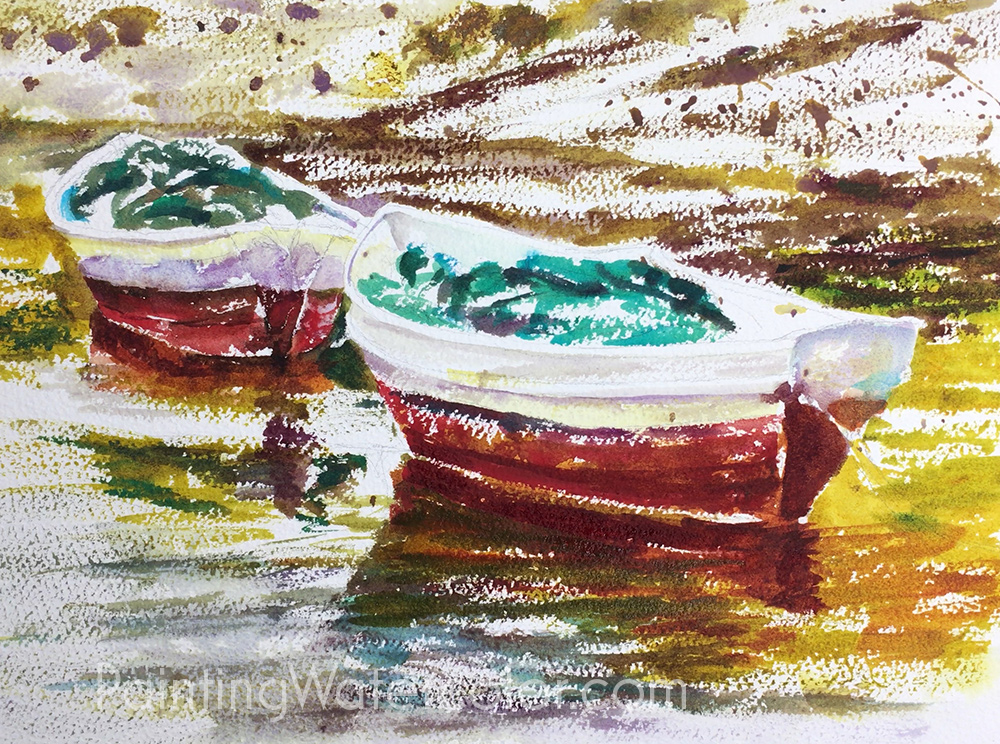 I'm finally starting to see the lovely glow in that water. I dull down a few whites, still proceeding with caution.
When you're painting reflections, always let the ripples and sunlight distort the reflection slightly.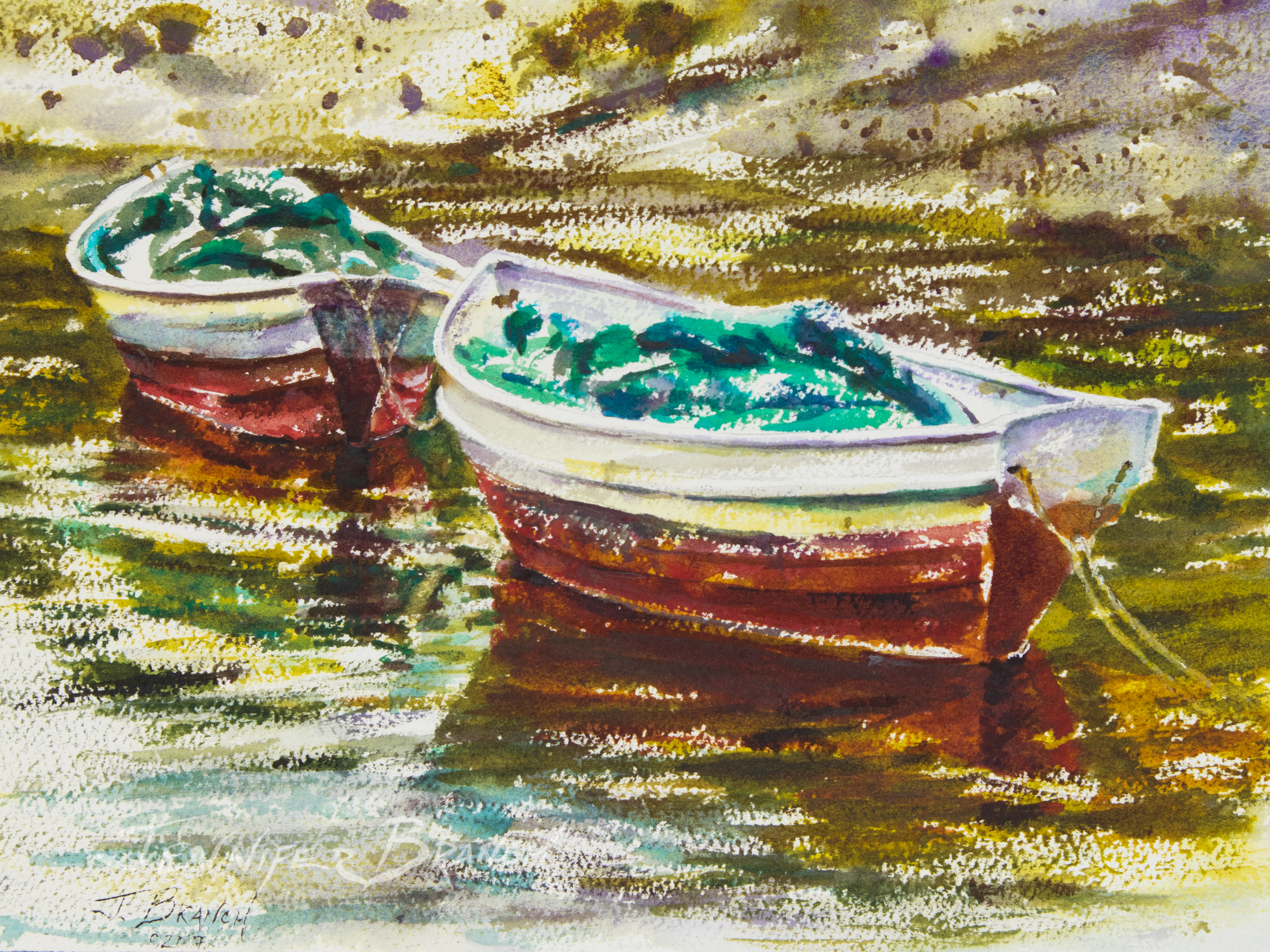 This isn't the first time I've painted these dories. I doubt it will be the last. I love to see these classic boats being used for fishing still. It's a beautiful, timeless image.
I'm very happy with this painting. It's not the sunny day I generally paint boats on, but a more overcast, luminous light. I generally rely on great hull reflections as the focus of my boat paintings. It's rather nice to be concentrating on the reflection and shimmering water for a change. (Not that I don't love my hull reflections! :) )
This is a more difficult painting to paint excellently, but I think even a beginner watercolor artist could do a lot with it and have something they'd be happy with. After all, it's still about lovely wooden boats, bright reflections and a beautiful Maine day!