I love sketching my dog on rainy days. He sprawls out in the most ridiculous positions but just comfortably falls asleep. In this sketch, he's taken over the sofa and is fast asleep. He's an English Shepherd, the farm predecessor of Border Collies and Australian Shepherds. And right now, he's sprawled out with gangly limbs askew, like a teenager.
When I'm sketching an animal or child, I always make certain I take a photo! This time he stayed asleep, but so much of the time they move the second you get started and it's hard to remember the pose!
This is just a simple little sketch. I'm playing in my new Pentalic sketchbook on a lazy afternoon.
I sketch very lightly with a basic 2B yellow pencil, nothing fancy. If I was just pencil sketching, I prefer a dark heavy pencil, but a 8B would smear into the watercolor and muddy it. My dog is basic black and white, so all I need are a few delineations separating the stark colors.
Always keep a sketch light and simple. For instance, I can't see a black closed eye in black hair, so I just sketch the shadow.
I'm starting out very loose. The only colors I use in this painting are ultramarine blue, burnt sienna, quinacridone gold and quinacridone red. That's it! Keeping the colors simple allows me to focus on the value shapes, not distracting colors. And after all, there's not a lot of color interest in a black and white dog.
Note: I never have black or gray on my palette, I mix it. Most premixed blacks or grays have a minimum of 3 pigments already, which doesn't leave you anything to mix them with unless you want instant mud.
I let all the colors and shapes flow into each other on this, just adding a bit more pigment into the areas I want darker.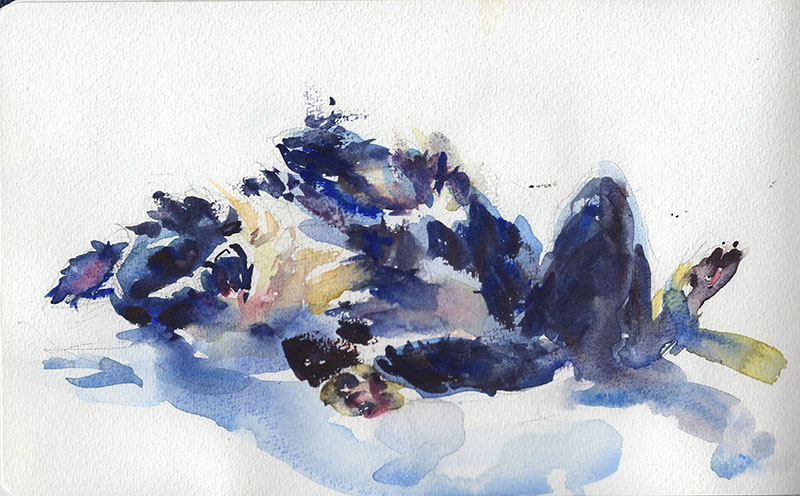 A lazy dog and a relaxed sketch. A perfect way to spend an afternoon!