You can make painting an everyday joy in your life. Painting is something you feel passionately about. It's something you love doing, but I know you have things in your life that get in the way of just sitting down and sketching. I do too. We're all busy people.
It's time to make painting part of your everyday life, not something you save for holidays and weekends.
Painting time doesn't need to be hours long. If you just have a few minutes a day to take back for yourself, use them. Take that time and make something beautiful for just you.
It's so tempting just to crash in the evening after I've finished my work for the day. A few minutes watching tv sometimes feels like all I'm up to doing. However, if I take 15 minutes just for me, I feel rejeuvenated instead of exhausted. Painting something I see or something I saw during the day gives me renewed joy in life.
I have a busy life, like everyone else today. These are the things I do to make time for painting, even when I have no time.
1. Limit Your Equipment.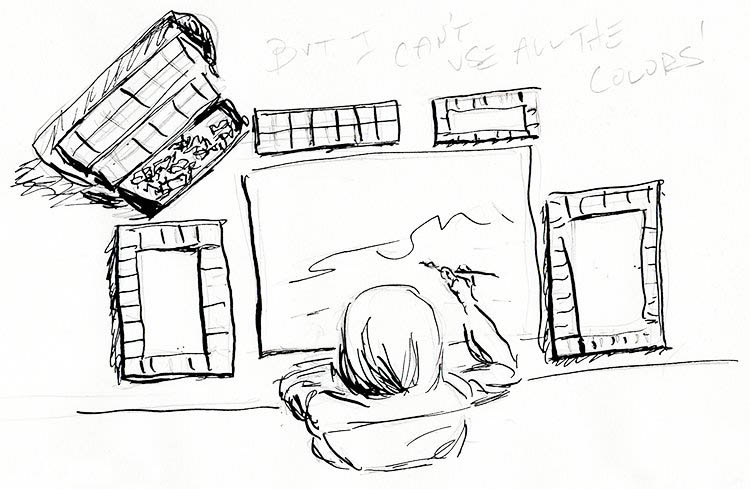 If you limit your supplies to just the essentials, you'll be able to start painting in a lot less time.
By the essentials, I mean ALL the supplies you need to paint. Don't pare your kit down to where you're not going to be happy and enjoy painting. That's ridiculous. Even if you're hiking, there's a certain amount of art supplies you need to carry with you to be comfortable painting.
1. Paper

This can be a journal or block. If you want to pre stretch your favorite paper, do at least 10 at a time so they're ready to go.

2. Paints and Palette

Here's where things get complicated.

I use a studio John Pike palette and a small Winsor & Newton Cotman Water Colour Sketchers Pocket Box. If I'm just painting for a few minutes, I'll usually use my little palette. It has just the pigments I use in almost every painting so it's quick to start.

One mistake people make is to get even tinier palettes. If you have an adorable itty bitty palette, you need a tiny brush to fit in the wells. Not much pigment fits in the wells. So your paintings will be anemic, starved from lack of paint.

A standard half pan holds just enough paint that you probably won't run out in 2 small paintings, but not so much that you're squirting out more than you need. With most watercolor paints, you only want to have out what you are going to use that painting session unless you keep it very damp (which can also grow mold.) M. Graham paints are the best I know about coming back to perfect instantly, which is why I use them.

3. Brush

I carry 2 brushes in my essentials, a #12 round squirrel and a #1 rigger. I only absolutely need the round but I like having the rigger on location.

I use a brush box to carry everything in so the brushes stay undamaged. This fits my little palette and small essentials as well.

4. Water container and Water

I use a collapsible water container and a Nalgene on location. A plastic cup will work. There's no need to get fancy.

5. Paper towels or Rags

At home I use rags; on location I use paper towels.

6. Pencil

I like real pencils so that adds a contained sharpener to my essentials.

7. Paper Clips

If the wind is blowing, you'll want to hold your paper down. If you're using a block, you don't need this.
2. Have a Go Paint Bag.
If everything is ready to start painting already, it only takes a minute to pour your water and start painting. If you have to find everything first, it can take a lot longer.
I repack my Go Paint bag as soon as everything is dry from the previous painting.
I usually have my car Go Paint bag with me when I go out. If we stop by a playground or lake, I can paint 15 minutes while my children play.
A ziplock bag will hold everything in your work bag so you can take advantage of your lunch break. A few minutes painting will recharge your batteries!
I always pack painting gear when I go hiking. My little kit fits easily in my backpack, with plenty of room left for a picnic and other essentials. After all, the whole point of hiking is to paint something you don't see from the car, right?
3. Bring 2 Papers.
I bring either 2 journals or a journal and a small Arches block.
Watercolor always has some drying time built in and I prefer to paint at least 3 washes. On a humid day, that can be a lot of time watching paint dry. I always bring a second paper to play with - and often my back up sketch is much better than the one I started on!